BABY + TODDLER


BABIES R US REGISTRY Create a FREE Babies R Us Gift Registry.

BABY GIFT REGISTRY: Create a Baby Gift Registry for FREE at My Registry.
BABY ON BOARD BOOTCAMP: Sign up for the LearnVest Baby on Board Bootcamp today.
BABY PHOTO PEN: Send them an Email to receive a FREE Sample Baby Photo Pen.
BABY SHOPPING SPREE: Enter to Win a $3500 Shopping Spree for Baby.

BABY SIGN OF THE WEEK: FREE "Sign of the Week" Baby Signing Online Video from Signing Time.

shipping

BABYTIME STARTER PACK: FREE BabyTime Starter Pack.

BEECHNUT BOOKLET: Receive a FREE Beechnut Solid Advice Booklet!

BEECHNUT NEXT-STEP KIT: Get a FREE Beechnut Next-Step Kit!
BEECHNUT STAGE 4/STAGE 5 KIT: Get a FREE Beechnut Stage 4/Stage 5 Starter Kit.
BEECHNUT WELCOME KIT: Get a FREE Beechnut Toddler Welcome Kit.
BELLY BAG: Consult with a Certified Childbirth Educators & Receive Free Belly Bag! [US]
BREASTFEEDING.COM: You'll find lots of FREE Stuff at Breastfeeding.com. Breastfeeding.com offers largest FREE Information Center on the Web for Breastfeeding Mothers!
BREASTFEEDING YOUR BABY BOOKLET: Order a FREE Copy of "Breastfeeding Your Baby".
BUY BUY BABY GOODY BAG: Pick Up a FREE Buy Buy Baby Goody Bag In Store Near You!
CAR SEAT ID TAG: Get a FREE Car Seat ID Tag. [US]

CARSEAT CANOPY: FREE Carseat Canopy! Code: MYSAVINGS [A $50 Value]
CENTER FOR BIRTH DEFECTS MATERIALS: Order FREE Materials from The Center for Birth Defects & Developmental Disabilities.
CIRCUS TICKETS: Every child born in the United States over the past 12 months is entitled to receive his or her first ticket to Ringling Bros. and Barnum & Bailey absolutely FREE!

COCOMA BABY POINTS: Upon Registration, you will Automatically Earn 5 Points, which is Equivalent to $5 Credit in Our Store.

DEALS FOR MOMMY: FREE Samples + Coupons for Your Family & You!
DIAPER SURVEY: Take the Diaper Survey to start earning rewards today!
DUE DATE CALCULATOR: FREE Due Date Calculator from Clear Blue Easy.
EARTH'S BEST DIAPERS: FREE Sample of Earth's Best Chlorine Free Diapers for Mom Ambassadors.
ELMO BAG TAG: Get a FREE Elmo Diaper Bag Tag from Nursery® Water! [US]
ENFAMIL FAMILY BEGINNINGS: Join Enfamil Family Beginnings® for up to $250 in FREE Gifts.
EVENFLO SAVINGS: Print Money Saving Enfamil Coupons.

EVERYDAY FAMILY: Click here for FREE Baby Magazines, Formula Samples, Diaper Coupons, Health Information and more.

FISHER-PRICE: Sign up for Fisher-Price eMails and get age-appropriate playtips and special offers.
FREEFLY'S: Trying to cut costs and save money while preparing for the arrival of your new baby? Sign up at Freeflys.com for FREE Samples and Coupons for Baby Products you'll love.

FREE NURSING COVER: Get Your FREE Nursing Cover! Code: BABYSAVINGS

GERBER NUTRITION KIT: Print the Certificate and Ask for your FREE Gerber Generation Nutrition Kit when you Deliver at a Participating Hospital!
GOODNITES UNDERWEAR COUPONS: Print Money Saving Coupons for GoodNites Underwear.
GREEN CUPBOARDS: Create a FREE Baby Registry at Green Cupboards.
GREEN DOT PACIFIER: Send them an Email to receive a FREE Green Dot Fever Indicating Pacifier!
HEARTLAND DIAPERS: Receive FREE Samples of Heartland Diapers!
HONEST DIAPERS: Get a FREE Sample Pack of Honest Diapers!
HUGGIES SWEEPSTAKES: Enter to Win $1500 in Huggies Diapers!
INCREDIBLE BABY NAMES: Research baby names by celebrity, ethnicity, popularity, historical significance and more. Sign up for our daily baby name email for incredible baby name ideas!

JOHNSON'S BABY KIT: Get a FREE Johnson's Baby Relief Kit.

JOHNSONS COUPONS: Print a Coupon good for $1 Off Johnson's Baby Lotion.
LYSOL BABY GUIDE: Request a FREE "Looking After You and Your Baby" Guide from Lysol.

MOM 365: Join Mom365 today and receive $60 in gifts—$20 gift card from Shutterfly, $20 gift card from Back-buddy.com and a free $20 keepsake from Mom365 Newborn Photography! Plus be entered to win more than $500 in cash and products for you.

MOMMY PAGES: FREE Samples + More... Register at Mommy Pages Today!
MOM'S VIEW: 1001 FREE Things for Parents, Babies & Kids! Direct links to Baby Coupons! Stop by for a visit or join the newsletter by sending a "BLANK" email to MomsView@egroups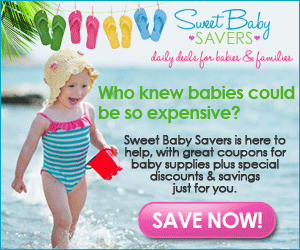 NIDO 1+ COUPON: Get a Coupon good for $4 Off Nido 1+ Baby Formula.

shipping

NURSING PILLOW: It's as easy as 1-2-3! Go to www.nursingpillow.com. Click on "Shop Now" and select the Nursing Pillow? of your choice in any of our 9 prints! Once you have made your selection, you'll automatically be directed to the shopping bag. Enter the promo code "MYSAVINGS" and we will deduct 100% off the cost of your selected Nursing Pillow? - all you pay are the shipping fees! Remember: the promo code is "MYSAVINGS" and you can use it more than once. Just open a new browser window each time you do.

ORGANIC BABY GARDEN: Create Your Baby Registry for FREE at Organic Baby Garden.

PAMPER'S CRUISERS: Get a FREE Sample of Pamper's Cruisers with Dry Max.

PAMPER'S GIFTS TO GROW REWARDS: Get the Rewards you Deserve. Join Gifts to Grow now to get 100 FREE Points!
PAMPERS KANDOO SUPER POWERS KIT: Pampers Kandoo is recruiting up to 1,000 new heros each month to join our Clean Crew. Be one of the first to take the oath! Do the following four tasks, and if you are one of the first 1,000 each month you will receive your free super powers kit in the mail!
PEDS FOR PARENTS: Get a FREE Issue of Pediatrics for Parents, the newsletter for Parents who want to know about Children's Health. Also join their FREE Bimonthly Update Newsletter!
PLANNING FAMILY: FREE Baby Stuff + More!
PRESCHOOL PARENTING GUIDE: FREE Preschool Parenting Guide.

PUBLIX BABY CLUB: The Publix Baby Club Gives Parents Lots of perks: Coupons for FREE Full-Size Baby Products, FREE Informative Newsletters, and much more. It's FREE if you're Expecting a Baby, or if your Child is Under 24 Months old. Join Today! [US]
SELECT YOUR SWEEPS: Enter to Win Your Choice of Diapers & Formula, a Nursery Makeover or $3500 Cash!
SIMILAC iPHONE APP: Download the Similac iPhone APP for FREE.
SWEET BABY SAVERS: Sign Up for FREE Samples + Savings for Your Toddler.
TODDLER SAVINGS: Sign Up for FREE Stuff + LOTS of Savings for Your Toddler!
TOTSY: Up to 80% off for Babies, Kids & Moms! Don't Miss Out on these Great Deals for Your Kids, Join Totsy for FREE Today!

WIN A BABIES R US GIFT CARD: Enter to Win a $250 Babies R Us Gift Card!
WIN A BABY SHOPPING SPREE: Enter to Win a $3500 Baby Shopping Spree.
WIN BABY PRODUCTS: Complete a Short Survey for a Chance to Win $1500 Worth of Baby Products!
WIN FREE DIAPERS: Enter to Win FREE Diapers for a Year.
ZULILY: Daily Deals for Moms, Babies & Kids - up to 90% off!